Flood Management Plan in Wadi Hanifa And Wadi El-sale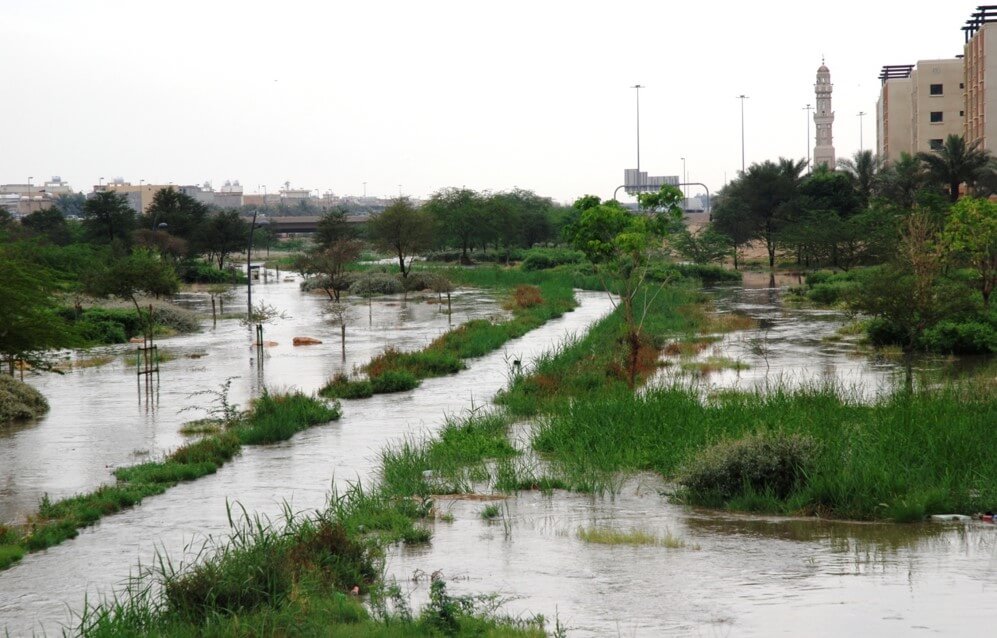 The plan comes in response to recent climate changes which have led to increased vulnerability of areas in the valleys and their branches to flood risks. It also seeks to protect life and property on the borders of the valley and to protect existing facilities. Under a series of studies conducted by the authority on the two valleys and after setting up the mathematical models of flood sat which the available hydrological information to the authority and others around it was taking into account, in addition to witnessing the successful global experiences in flood management and best practices at this field, monitoring stations have been installed to determine the rainfall and the rising water levels in the valleys, measure the torrential flowing intensity and operate a program for data analysis and utilization. Technical reports and indicators are periodically prepared.
The plan included determining the paths and lengths of the channels, the effect of the urban extension of the quarters, the knowledge of the storage capacities as well as the collection and analysis of available climate information for the valleys and the identification of different scenarios of precipitation and intensity of rains to estimate the volume and rates of water basin flows in the valleys and their branches that are expected to occur with climate change. The plan also identified the areas in the valleys most prone to flooding and the depth and speed of water flow.
The flood management plan covers the entire area of the main collecting basin of Wadi Hanifa and the sub-valleys which are estimated at 4000 km 2, extending from Al-Hissiyyah north until the Al-Hareer lakes south along 120 km, in addition to several sub-valleys and the main and small reefs that flow into it (about 176 km).
This information will be collected and analyzed and the proposed action will be presented to relevant authorities to reduce the risk of torrents and rain. This plan will be based on a group of flood management programs, systems and procedures before, after and during, as well as a monitoring program, an early warning system, awareness programs, guidelines and controls for owners in the valley, and the execution of projects to process the sites at risk of flooding, which fall within the approved torrential streams.
According to this plan, the meeting approved the formation of a permanent working group composed of the high authority for the development of Riyadh, the Ministry of Transport, the Saudi electricity company, the Ministry of Environment, Water and Agriculture, the Department of Civil Defense in Riyadh and Riyadh municipality to follow up the execution of processing at the critical areas. The supreme commission was commissioned to prepare the designs and documents necessary for the program of monitoring and early warning in the valley and put it forward for implementation.